Nutrition
:
6a-eggs, side pork, toast, coffee w/ CM
(830-lifting)
10-SB&CB&J toast, coffee w/ CM
1230p-Cobb salad, decaf
230-apple chips
445-LB
630-pork roast, yam, apple w/ SB
Sleep
: 7.25 hours in bed, 1030p-545a, 66% quality. Unfortunately, yes. Woke at 4a and never really fell back after that; kinda almost did, but Hanky began his prancing attempts to wake me at 5a. Took me ages to fully truly wake up.
Healthy Movement
: Body is feeling quite a bit better than yesterday, other than left shoulder. Wanted to do All The Lifts, but I know that
easing
into a 3rd lifting day increases the odds that it's consistently doable. So instead of doing it all, I did
OH press
, and then KB versions of the Big Three. (Plus pulls, of course, I'd never leave out my #1 obsession.) Walked upstairs feeling like, "That was easy" - I need to give myself more of that! Hoping that adding OHP into my program will strengthen whatever is causing the anger in my left shoulder, in a roundabout way: I think it's angry because I'm getting too kippy in my pulls, and adding the push strength should help the pull strength, meaning I don't [need to] kip. Right?
Tried working on a training plan, and WOW I have too many loves. I want to fit in trails 3x, lifting 3x, W2R 3x, sprints, yoga, tire flips, & maybe a rest day while I'm at it. I think I'm going to book myself solid, but do so with the mentality that I can skip ANY day whatsoever and have zero need to make it up (besides Dustin, of course). If it's a progression workout, like long-run mileage, or OHP, then I adjust the progression backward. But I don't need to squeeze in a missed OHP if I was tired or busy on Sunday. However, I only have Friday or Sunday open to Holea/Shannon time for sprints or yoga. That is
really
limited. Things open up a lot more after W2R finishes, so maybe it'll just be a postponement. Of course, then my jobs change, & schedule could change dramatically, so who knows.
Fun & Play
: A super productive morning. By 10am I had most of the laundry done, yams baked, pork roast in progress, veggies roasted, salads made, litter cleaned, dishwasher running, bills paid (okay, that was done yesterday), and my lifting finished. I mean HOT DAMN I can accomplish shit when I actually stick to my to-do list and don't get sidetracked by FB or magazines or books or SQUIRREL! Lunch with my BB, GP, & MB. Hubs home when I returned from lunch, though I kept quiet so he could catch up on sleep. Had time together in the eve, reading, with Hanky in my lap, smushing my lungs: happiness.
Socialization
: Lately I'm feeling so full of love for my people. I just want to hug everyone and tell them they're amazing and wonderful and perfect and so very lovable and I would be so lost without them. Overly emotional and overflowing with it. Picture me as Elmyra.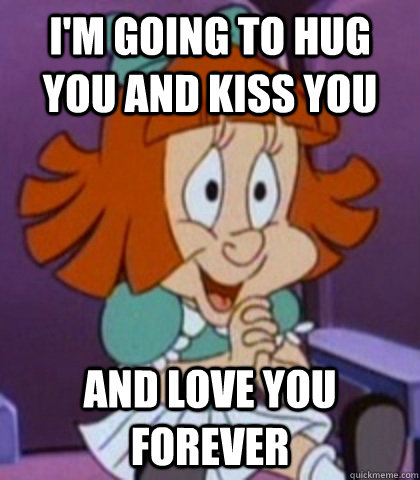 This is prompted by feeling so seriously grateful for the people that TS put into my life. Where would I be without my BeloveBuddy & Girl Power & Miss Bigheart? Without Timmy & Mac? Without Brett, who led me to my ROUSers Shawn & Andy & Dan & Heidi? Where would I be without my precious Brian & all the trail-running-based loves he's introduced me to? Where would I be without Amy, the very thought of whom can instantly prompt tears for how deeply I miss her daily presence? What about Terri & Juliet, and the bonds of friendship that do not fade despite months (or years) apart?
Without TS I never would have hooked up with Dustin & Mike and the life-changing world of NSS. I might never have found my talent & addiction for pull-ups & bench press, I wouldn't have my beloved Holea, and I wouldn't have a total dream job to run toward, as my TS job has lost all luster.
How much will I miss my Finance team, my number-crunching geniuses? So much, so
painfully
much. And yet, to be able to give my talents to NSS, to help them be more successful, which means they are helping more people, which means the world acquires more delighted and delightfully strong Sabrinas: this is my ultimate dream. I simply can't NOT do this.
I'm grateful that this job change will not take me too far from my peeps, but I know it will take effort to maintain the connections. I can't pop up to my BB's desk and leave a treat & love note any old day of the week. I can't drop into Brian's booth at break time for a refreshing chat of epic trail adventures. I can't deliver bacon-wrapped treats to Brett's desk. I can't horn in on Timmy's lunch run 15 minutes before she goes.
So I lose the easy, instant connections, okay.
Okay.
It'll be okay.
I know I can & will make the effort to find new ways to keep us connected. I must. I
need
them. More and more, I see that time with my people is where I find my ultimate happiness. My running friends are easy to stay close to. Just you TRY to pry my BK & HH trail runs out of my schedule, you'll be facing my biceps. But my BB, we need regular dates, too; even if it's just a monthly breakfast date: that's sheer loveliness. And Timmy, I need my Timmy time, more than just our joint NSS workouts. I can and will. I need me my precious peeps.