365 days of thanks!
In short
: my amazing people, my peaceful home, trails & sunshine, my running friends, my jobs, lifting, my critters, silliness, and various foods (mostly coffee).
In detail
:
For my new house. On my tromp I discovered the back half of our 7 acres is chock full of deer tracks. Love it.
For my friend Joy. It's her birthday tomorrow, and I want her to read this and know that I think she's brilliant, talented, strong, wise, beautiful, kind, and simply amazing. Her friendship has been a wonderful gift for which I am deeply grateful. She has been an unbeatable resource on my food restrictions, turned me into a tea geek, shares my iron addiction, and regularly inspires me to be a better me. I wish for each of you to have such an incredible person in your life.
Despite the amount of complaining I'm likely to do in the next week, I really do love my job. All of my jobs. I would never work as much or as hard as I do for a bunch of jerks. But for genuinely good, also hard-working, smart, grateful people? I'll work my ass off, happily.
For job security, Sabrina. Job security.
For the hot tub that we never would have even THOUGHT of buying, but came with the new house. So far, the Saturday night hot tub parties have freaking ruled.
For my husband. Before the run, he told me I just needed to believe in myself. When I returned from the run quiet and scowling all afternoon, he gave me my space. Smart.
For coconut oil. Added to coffee or tea, it's bomb dig.
For my shorter commute.
For podcasts, and for Dustin who got me hooked on 'em. Larry Miller is back, and the sound of his voice nearly made me cry. Like reuniting with an old friend.
For devoted, hard-working coworkers. Without them, my job would be far more frustrating.
For the ability to work from home at two of my three jobs, which I did this morning.
For a flexible crew at job #3, who doesn't care WHEN I come in, so long as I come in.
For parents who do things like buy end tables and sew curtains because they want to help.
For automatic bill payments. Makes life so much easier.
For good hair days.
For Lisa Timmerman. She's so incredibly sweet and yet also a complete & total smart ass. Just my kind of person! Plus, without her company, what kind of runner would I have become? Having her as my regular lunchtime running buddy is such an amazing gift. Someone with a similar training schedule, who runs at the same pace, that I adore...how much luckier could I get?
That I work at job where people can see you've been crying and ask if you're okay. At the time, it SUCKS - because it only makes me want to cry again. But it means I work with kind people, and that is something I very much appreciate.
For NSS. Grateful beyond words.
For fellow runners. Chatting with Brett & Mark kept me from ever getting up in my head on the run this morning. Lovely!
For the easiness of my job(s). Play with spreadsheets AND get paid?! Lucky, lucky girl.
For the incredibly frustrating knee pain that led me to NSS back in '09.
That Paleo eating works for me. Heather is tasked with finding a diet based on alkaline foods...I don't know if there is an easy starting template for that - sounds tough.
For curly hair. The wind made it a little frizzy, so I slapped it into an updo mid-afternoon. Not perfect, but good enough for the last few hours of the day. That's an ability that I'm sure many straight-haired ladies would give a pinky to have!
For honey. Honey is delicious!
That my husband likes his job so much. Fun people there.
For my cousin's 7 adorable kids, who treat my parents like their grandparents - and vice versa. Visited them in the eve and had fun playing "cougar attack" with them, but was just as happy to return home to a quiet house.
For free money. I found a penny on today's run, and that puts me at $0.27 in the past couple of weeks. I'll be a millionaire in no time!
For snuggly kitties.
For my friends. So lucky to have them.
For Juliet. So happy to have become friends with that girl over my years here. Thrilled for her new adventure, but sad it requires leaving us. Glad she's a FB regular!
For real, honest conversations, especially when they're with someone you've only "surfacely" connected with before. Good for the soul.
For quotes and motivational pictures.
Lessons for LIFE.
However, contrary to what I used to believe, there is no need to push so hard that you collapse to the floor when you're done.
Again: more than just fitness.
For my husband. He cleaned the house, AND he made me supper. Whattaguy!
For gas station delis that have actual vegetables. So rare!
For friends who say things like "So, you felt completely different when you got up, right? You automatically felt like a lead who knew everything?" or who notice tiny things like my first official email sent as a lead. They understand it's going to be a process, but they also have full confidence in my abilities. I sure do wish I did.
For Steve & the perspective he brings. Worth every penny.
For Lisa, once again. Bestest friend ever?
That I didn't need any willpower to avoid the massive amount of Girl Scout cookies in our area today (um, that I brought in, of course).
That I keep everything. Unearthed an email from October that saved my butt from the auditor today.
For my family. They're just awesome.
For silly smartass text conversations.
For cute boots, worn because I'm sitting today. Silver lining to the foot pain.
For smart business decisions. I can attend the powerlifting meet, hooray!
I have the most wondertastic friends; I really do.
For blood donations at work. It went so smoothly I didn't even get anxious about it. Cool!
For all of the positive-thinking peeps in my life.
That I can do my own taxes. (Less so that I can do everyone else's taxes.)
For people who bring a semblance of balance into my life, because without them, I'd be an even bigger disaster.
That my trail mix is gone. No more willpower needed.
For Steve.
For my friends. They are incredible, wonderful, amazing women.
For Americanos.
That coffee is so cheap. Nectar of the overworked!
For fun fellow runners.
For a quiet, peaceful house.
For my regular committed class attendees. Fun boys!
For fundraising opportunities at work. We had a Relay for Life breakfast that I worked 630-830 and it was a blast! Totally worth getting up for at 5am.
That I knew Jack. We lost him one year ago today.
For orange kitties.
Clyde is my favorite.

Don't tell Oscar.
For the running group.
For my husband. Today he was pretty much perfect.
This stuff is delicious AND Paleo AND Whole30! Better than plain ol' hot sauce on my breakfast scramble. Probably good on anything hot-sauce-able. Maybe even my tilapia?
Snapped a pic of the last few bites.
That I can actually say "I don't
need
this job," - now if only I could actually ditch the job itself without feeling like an asshole, or missing the people.
For a past where I did kick ass...because surely there is a way to get back there...right?
For my people.
That my husband didn't give the slightest complaint or hint of annoyance when I
woke him up
to get me out of the snowbank. Seriously the most patient man in the world. How did I get so lucky?
For a peaceful home.
For the knowledge that this crazy weather is nearing its end. Come on, Spring! Bring your green grass and fragrant dirt and chirping birds and warm sun over here. I'm waiting with open arms!
For flexible hours.
For funny friends.
That I can afford to give little gifties to my besties, and that I managed to do so when one of them was having a Terrible Horrible No Good Very Bad Day involving death of a pet. Sadness.
For signs of Spring, oh so welcome. Except for signs like March blizzards. They need to go to hell along with DST.
For the friends that fitness has given me.
For a great employer. Great employerS.
For today's sunshine, lest I'd have attempted zero miles at all.
For my insurance agent, with whom I had a genuinely enjoyable conversation this morning. What luck to actually like the people you do business with! And how sad to be so surprised by this.
For my patient husband, and wonderfully helpful strangers who did not hesitate to grab shovels and tow straps and drag my sorry ass outta the snow.
For my many future options. Glad I'm a smarty pants.
For Brett, who made the article happen, and for Dustin, who made it possible.
For my strong Buddy. It was fun to see her deadlift my PR with ease and still be unsatisfied. Beast!
For chilly weather that makes tax season tolerable.
For friends who know just what to say.
For a bright, bright, bright, bright sunshiney day!
For funny pictures like this:
That despite all my whining and complaining and bitching and moaning and woe-is-me-ing, my people still love me. Luckiest. Girl. Ever.
For this instinct: while talking to Monica yesterday about the Train & Stay, and hearing her say she needed just needed to make the commitment and then figure out the training, my gut reaction was to tell her "Okay, so let's make a weekly running date on the trails.
Let me help you do this
." I did not offer, because I'm learning to avoid over-committing myself, but I like that my brain instantly visualized a regular Saturday morning group trail run, that my automatic instinct still is to
help others run
. I like that about me. And I want to do something with that someday. But right now I need to work on helping ME run.
For the ease of eating healthy. I don't know where it went or why it's returned, but it makes my life so. much. easier. Actually, I do know why it's returned: I've had a massive perspective shift where I no longer feel deprived because I can't eat what everyone else eats, no longer seeking food for comfort - I'm mainly just treating food as fuel again. But I can't explain what finally pushed me back to this happy place. If I knew, maybe I could stop sinking to the cray cray place.
For Tastefully Simple's Kids in the Community group. I would never be this close to Emma without it. Next week is the kick-off event for 2013, and when her mom confirmed she'll make it, she included this:
Also.....she has to interview an athlete for a badge [for Girl Scouts]...just a quick interview, could probably get it done on the car ride there or something. You are the perfect athlete!! My mom gave us the article from the paper and my oh my woman you look BEAUTIFUL!!

:)
You know this made my day. Especially when I did not initially follow the athlete line of thinking to be referring to me.
For fun data, like this, from today's run:


For such incredible work ethic everywhere I work. Work Easter at the tax firm because I prefer to run on Saturday? No problem, there's three others coming in, too. And on Saturday afternoon I even got replies back from NSS peeps hanging at home but watching their email because they knew I'd be in then. I just love that everyone else I work with/for has such a high level of commitment. I don't think I could work for someone who was cool with just skating by at a half-assed level of effort.
For abundant sunshine. And even for the wind, which will help to eliminate the snow. Be gone!
F
or my awesome god-daughter. Dig this message from her mom:
Just had to share....Emma brought the article from Echo Press to school today for her sharing. She wanted everyone to know about you going to Boston!! She is so proud!

:)
For sunshine. I feel like a flower soaking it up!
For the smart, capable, fun, chipper coworker I spent the afternoon training, who pulled me out of my funk. Also for the doe in my backyard. Beautiful.
Today I set up my appointment to select the outfits I'll model at the LAPW Style Show. When asked about sizing, I told her "Varies from small-to-medium, depending, as I have an athletic build." And then I grinned in realization that
Yes, I do!
For this Boston forecast on April 15:
-Partly cloudy
-High of 59F
-Winds SSE 12 mph
-AKA: damn near perfect.


For a talented husband. Tonight's chops were bomb dig.
For this, from my NSS peeps:
It literally could not be a more perfect representation of me, could it?
For the boys at NSS, who swapped around duties for this Tuesday/next Tuesday at my request. Or possibly other reasons, but I'm telling myself it was all for me. I feel special. And that's why I love them! And for a perfect Boston forecast:
Please please please don't change!!
For the ability to give treats to my favorite peeps regularly; today included Dustin and the entire tax firm. And, by proxy, my mom, who was recruited to deliver the tax firm treat and thus got to glow in the fun of surprise-treat-delivery warm fuzzies.
Getting all emotional about Boston already. Such a sap! My people are just so wonderful. Lisa in particular sent me a lovely email that made me tear right up. Brett stopped by on his way out to wish me luck. Lots of good FB comments. Dustin took the moderation route, didn't get too deep into thinking about it, just focused on me already being in a good mental place to enjoy the experience. And he told me to remember that, as I take my walk break and watch "everyone else" run past me, 99% of the runners in this country will never even get to take a walk break in the Boston Marathon. If only he could perch on my shoulder and dole out such gems when I am most in need!
For NSS. Spent much of the day there and loved every minute. (Holea even brought me her puppy to squeal over. Must. Get. Dog. Or dogs.)
For coffee, sweet coffee.
For my family. No matter what happens tomorrow, they already think I really am Wonder Woman.
That everyone I know is safe. That there weren't more injuries. That it brought out kindness and generosity in so many people.
For the technology that allows us all to connect and share our status. Without my phone yesterday I would have been so confused and lost and wouldn't have had a clue what was going on or where I should go, and I would have been scared out of my mind. If my family had not been able to contact me, they would have been terrified. If I had been trying to run a fast race, I wouldn't have had my phone on me at all. The hundreds of Facebook posts made me feel very loved. The map on my phone helped me navigate back to my family. Magical elves of the interwebz, I love you!
Oh, and beyond grateful for this. Paid for with blood, sweat, tears, pieces of my very soul:
For the kindness of strangers. Boston airport worker asked me if I got to finish, congratulated me, and asked me to please come back next year. I assured him I would. A lie, but exactly the lie he needed to hear. I can be a kind stranger, too!
For all of the wonderful people in my world. They're incredible.
That I had planned to work from home today, otherwise this snow might actually upset me. As it is, I was only bothered enough to clean it off the bird feeder for my wee feathered visitors.
For small towns. Our Northwoods waitress gave me free breakfast AND a hug today when I told her why Joy had given me flowers, plus the next table clapped!! Where else ya gonna find that kind of love?!
For the technology that shall keep me in touch with my beloved Amy. She's even admitted she'll be forced to get on FB, finally! But I am still going to miss her tons. So smart. Love to tromp around in the woods with her. So very helpful with work-related conversations. One of the few people with whom I share nearly identical religious & political views. Superb workout buddy - the primary group fitness instructor responsible for my fitness addiction, in fact. Beyond hilarious. Just god damned FUN to be with. VERY sad for me, VERY happy for her.
For my dental office. Going there is like catching up with an aunt and uncle. I'm so lucky.
That podcasts are free & plentiful.
For TS. So many lovely people.
That there is an end to this snow. There is. Really!
For my parents, who brought over a kennel and a dog house and even a basket of toys!
For god-parenting. Whatever the origins of this tradition, it has given me such pleasure in letting me act like a fun aunt. I love it!
For Terri's newly-married friends, the reason she came home this weekend. It was so wonderful to see her!
For Hop's job. Pumping has begun and I shall soon be complaining about it, but we sure couldn't afford this house if he was still at his old job, no matter how many jobs I have!
For the technology & a job that lets me work from home in the middle of the day, just so I could get Hank outside before heading off to the LAPW event.
For the podcasts that block out Hank's whining and barking when the cats come back inside and he is left to entertain himself.
That my little cutie pie came home. Not as grateful that he LEFT, but hard to blame him. Garage is boring!
For Hop's job. Yeah, the hours completely blow right now, but I'm reminding myself those big overtime-filled checks are the reason we don't have to worry just
too
much about finances, and were able to spend (gulp) nearly $500 on the dog in just one week.
For my strength, else Hank would have gotten free when he saw the deer, and he'd have been long gone.
For parents. So incredibly helpful
For the subsidized coffee at work. A phenom benefit!
For underground fence magic. I left Hank access to both garage & outside overnight, and he stayed around. Yay! Now, how do I get him to stay home/loose during the day when I leave? He did stay far behind while I fetched the trash can in the eve, so we're making great progress.
For silly fun friends.
For the Alexandria dog park! Hank got to run and play with two awesome Great Danes (one a puppy, cutest evah) and a ball-obsessed pit bull named Vincent. (SUCH a great name!) He tried to play with Mitzi but was far too rough, she was hiding behind Holea. Best, though, was when the GD puppy tried to play with Mitzi, when his paws are the size of her tiny head. Squee! When we left, Hank was thoroughly worn out, and his neck grossly crusted with slobber from the adult GD. Perfect!
For Holea. Today's intervals may become a regular Friday date, and how fun does that sound?!
For you.
For adoring, snuggly, purring kitties.
For heat and sunshine. Oh, what a lovely time is May!
For my giant stash of PTO.
That Hop and I feel the same about living in the country. Love, love, love my house. Totally worth the sacrifice of paying for it. As I walked through the LCSP campground, I thought how pleasant it was, what a nice camping spot, unless it was full. But really, even if it's empty...my own backyard is still a million times better. Happy.
That I'm even thinking about this. Hooray for the BAA's generosity, and a GIANTER hooray for a body that has not yet told me to quit running forever!
For the possible end of pumping season; even if this only turns out to be a brief respite, Hop is to be home all weekend!!!
For the dog park. It does Hank a world of good.
That Oscar finally landed his claws on Hank's snout. Probably the only way he will learn that cats aren't fun at all.
For sugar snap peas. Nature's candy!
That Dustin gave me this description yesterday: "Three-time Boston qualifier!" I laughed so hard. It really needs an asterisk, but hey, it's still true!
For sunshine. Basked in it a little bit in the eve, finally.
That I have a Chief who thinks like this:
The sign of a really excellent routine is one which places great demands on the athlete, yet produces progressive long-term improvement without soreness, injury, or the athlete ever feeling thoroughly depleted. Any fool can create a program that is so demanding that it would virtually kill the toughest Marine...but not any fool can create a tough program that produces progress without unnecessary pain.
-Dr. Mel C. Siff
Because, left to my own devices, I am simply a complete fool. I suspect today's fatigue & poor recovery is not just poor sleep but also because I don't think my body likes my class all that much. Or at least, not without more calories. But my brain loves my class! How to win that battle?
For heated seats on chilly days.
For time in the woods. It was really, truly wonderful!
For Oscar the alpha cat who's whipping Hank into shape.
For trails in the woods, and wondertastic people with whom to share them.
For the deer in my yard this morning. I love my peaceful neighborhood!
For my strong, fast-healing back.
For the dog park. Such fun watching Hank and Mogley wrestle like a pair of little boys!
For ham! Although I wanted to fire him just a little bit (for making this on Friday fast day) my husband is pretty bomb:
For naps.
For fellow trail lovers.
For Hank. I got home late and only saw him for a few minutes, but he was an utterly perfect pooch!
That my back is nearly normal again. Hoping I get to do deadlifts on deadlift day!
For groups like this:
Such fun!
For my people.
For the people donating to my
Relay for Life
fundraising efforts. $200 yesterday!!
For really delicious healthy foods such as roasted cauliflower. SO GOOD.
For the SJU Arboretum.
For sunshine. What a beautiful day!
For dishwashers. Something we all take for granted, but would create nonstop bitching if taken away.
Still going to keep doing this. Glad for the analytical brain trying to find the balance in my life. Although sometimes I am creating mounds of stress for myself by analyzing to death, at some point this drive of mine will enable me to get this shit straight!
For my employer.
For my beastly lats. On my first set of 7, when I walked away all disgusted that I couldn't hit 9 again, I had to laugh at how very far I've come. Upset with 7 beautifully smooth, strong, solid, kip-less pull-ups? Silly girl!
For family who can lend 4-wheelers and trailers so we can tackle projects like this:
Just 1/3 of the tree line done...oof.
For my "mental reset" day:
For my hunter husband. This morning he managed to shoot the stupid bird that has been sneaking into our garage. Birds are fine, yo, except it would start flying around at dawn, which would make Hank bark like a freaking madman, until we opened the doors for the bird to be chased out. Some days dawn is a fine alarm time for me. Most days, it made me completely regret getting a dog. No mas! Frustrating birdie is dead to the world! Sorry, dude. Better luck next time.
For today's perspective dose from Lisa. She had told me she uses Mackenzie as a cut-off point, where her running before and since then is two separate sets of PRs. I decided today that I'll do the same. Since I'm not using Mackenzie, obviously, I had to think of another date where things really changed/fell apart. I'm going to use April 15, 2012. That would be the Boston Marathon I had to sit out due to injury, after which I had to start over from scratch and fight more injury issues. So, everything AFTER that point is my new set of comparison points for all things physical. I like that perspective. It's gentle. Understanding.
Forgiving
.
For playful doggies.
For such a patient husband, and his generous boss who told him to bring the generator right back home in anticipation of tonight's storm.
For awesome racing. Dirty and loud and late, but awesome!
Given how ungodly tired I was today, I was grateful to be on the Whole30 program; otherwise, I would have been overeating Larabars and fake bread and the like.
For crunchy apples.
For
gokaleo.com
- go check out her latest:
I'm Awesome and So Are You
http://gokaleo.com/2013/06/24/im-awesome-and-so-are-you/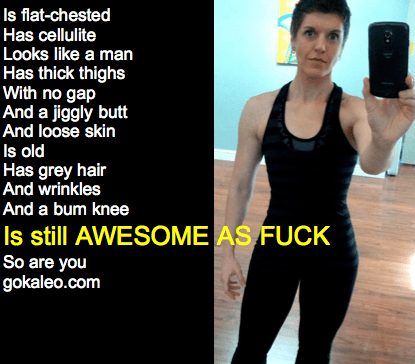 That I am awesome, and
so are you
.
For my current wise perspective on body image and health, which I hope helped a dear friend with hers. Remember, folks, no one else really cares what you look like. Your loved ones love YOU and want you to be healthy. Period. Your body comp has zero relation to your worth. You're amazing just the way you are.
For the trust placed in me at job #2. No problem letting me work there solo while they fill their brains two states away.
That I own one of these...
...with a view like this.
For the obsessive tracking that provides feedback like this:
This month's mileage is 161% of last year's June. That should be a huge step toward injury avoidance - pun intended!!
For obligation-free evenings. Tonight's yard wandering was good for the tired body and soul.
For my parents, who gave us their old lawn mower. Unfortunately it already needs a bunch of parts replaced, but still: very generous.
For my sleepy sweet doggy, and forgiving kitties.
Happily found that Hop was in agreement to be anti-social today, no need to deal with anyone. Exactly what I needed.
For weekends. Finally.
For a mini-reunion with my old racing buddy Amy A.
For today's Whole30 Daily about body image. It led me to
this post
from Melicious. Given my year of "no races" and "rediscover my love of running" goals, it spoke directly to me:
My underlying motivation for all of it – the weight loss, the physical challenges, the healthy eating – has always been that I wanted to be the best version of myself that I could possibly be. Happy, healthy, fit, strong, attractive. But that pure motivation got bastardized into numbers and external measures that divorced what I wanted from what I did.
So what if I try something different? For the first time in almost 30 years, what if I don't set a physical goal – no weight loss, no leaning out, no target time on the clock or weight on the bar.
Instead, what if I just behave like the best version of myself? Then I will be her.
The best me eats clean and sleeps well and trains hard and smiles a lot. She's free of worrying about what number might appear on a scale or a measuring tape. Instead of being intimidated or threatened by stronger, faster, leaner classmates at the gym, she delights in their capabilities. And she remembers to encourage the people around her to be their best versions.
Finally, the best version of me knows that she doesn't have to eat clean or meditate or practice yoga or lift heavy or get solid sleep. There is no accounting ledger keeping track of exemplary behavior for a reward later. There is no intrinsic value in checking off tasks on a list to earn a metaphorical gold star.
The clean eating and training meditation and lifting and sleeping are the reward. They are the thing.
So I've banished my "concrete" fitness goals. I know that "Be the best version of me" doesn't follow the SMART goal format. I don't care.
I've done it the conventional way. Now I'm doing it my way.
Because the best version of me refuses to be measured by some external yardstick.
Nice, right? It got me thinking...
What if I act like I'm satisfied with my body comp? What if I act as if I am already strong as fuck? What if I act as though I can train for a marathon any time I decide? What if I act like I'm delighted for everyone else's achievements, with no comparing to my own? What if I act like I have nothing to complain about?
What if I act like the person I want to be?
How long will it take to actually become that person?
For the Relay event. Super time-consuming this week, but worth it.
That my dad can buff out the scratches from Hank's climb into my unattended car. Naughty dog!
But doesn't he look happy as a clam?
For Holea. Holea B awesome!
For the promotion/raise that allowed me to keep Ploughshare. We got peas today! Nature's candy, baby!!
For the Relay committee. So much work done all year, all day, all night.
For naps.
For a happy body.
For my new desk. Lack of privacy means better productivity. Time to Get Shit Done!
For the bestest pet store possible; Lea's sponsors Bark in the Park night at every Tuesday home game.
For pork jerky. I will shed pathetic crocodile tears if it has to be eliminated.
That I was able to take Emmers to that concert. Hell of an expensive birthday gift, but an experience that she will remember forEVER. And so will I!
This is when 1D finally came out. She was crying, she was so overwhelmed!
That I have this awesome new house in which to host girls' weekend. I am spending the weekend cleaning (well, not so much today), possibly my least favorite activity, but it's for the bestest reason ever: my friends!!
For fast races. They ended so early that I even got gas & groceries before heading home!
For almost an entire weekend of open windows. Cool summer days are so very welcome.
For my bosses. They all be awesome.
That almost all of my friends are going to make it to the weekend shindig. I was getting worried that my Buddy might not come and it turns out she totally is and is bringing super tasty W30 treats and now I want to fast-forward right to Friday at 3p. ZOMG SO EXCITED.
For a smart workout buddy, who I only have courtesy of NSS, thus my gratitude extends there, as always.
For my second job. I am actually excited to go work there tomorrow!
For the house and land that allowed me to host all my best beasties.
For my weekend.
Is there anything more mesmerizing?
For my home.
For all the people that donated to my Relay fundraising. I raised a total of $1674, when my goal was only $1000. I have such amazingly generous peeps in my life!
For understanding friends.
For the newly-installed doggy door. Hanky is going to be even happier, if that's even possible!
For the little people in my life, like Baby Bear Alana, who was deadlifting at NSS when I did my pull-ups. Such a beautiful wee reflection of her strong-ass Mama Bear Joy...and with many extra years of intelligent strength-training to her advantage, where might this child take her beastly talents? I am truly excited to watch and find out!!
That four dollars could buy 23 books! (Well, plus a $5 donation to support this book sale returning!)
I thought money couldn't buy happiness?
For state parks.
The peace & quiet of this morning's trails made me so very happy.
For my new goddaughter! Currently six months of smiley, bright-eyed adorableness, and soon to be great fun to spoil; playing the role of Fun Aunt is the
best
.
For little miss Holea. She's great fun to chat with, keeps me logging these bonus runs, and her squats impress the shit out of me. Last night I watched her logging 175x5x5 - meanwhile my 1RM is 165. And she did those after our sprints. Hey Zeus Christo!
For a learning pooch. He had more in-house training tonight, and he didn't bark once!
For the annual chance to spend my afternoon outside at Lake B, getting paid to stroll the grounds and agree with our consultants that it is a peaceful, beautiful, under-utilized locale.
For Chief, the wise reality-bringer.
That my first job allows me the flexible hours to have a second job that I love so much.
I can't believe I'm not saying this every single day: I'm so very, very grateful that I'm not injured. I'm having such fun doing all these workouts, especially being able to log bonus runs with Holea. Or things like class - I am planning to do Spartacus next week with Travis, knowing he will absolutely bust ass to avoid falling behind me. Meanwhile I'm also strong enough to land a trapbar PR & keep pull-ups progressing, and what's more fun than Moar Pullz?! I'm easily logging 8-9 hours of workouts per week, and not just uninjured, but actually feeling great. And damn it all, I'm just plain
happy
, and I'm sure everyone else is grateful for that!
For the many healthy meals these tasty chickens will make.
That this can be considered a light week:
For short weeks. I just gotta make it through 3.5 days, then I have a 3.5-day weekend! I'll mainly be running & lifting & dog-parking; I couldn't be happier!
For the Well that led me, baby step by baby step, from 10-minute toning, to beginner yoga, to Amy's class, to walk-to-run coaching, to Dustin, to where I am today. Bitches!
For quiet nights with my snuggly kitty.
That this godparenting gig survived the divorce.
That I had free time to stay at NSS and play with the Mitz. Tiny dogs are delightful!
For old books that smell like old libraries.
Copyright 1959. Bliss!
For my family. They rule.
For the gift of a third chance. For the understanding of my people as I sacrifice so much to prove myself worthy of that gift.
For the KITC activities.
That the cold is barely slowing me down.
For cancer treatment advances. Some day...no cancer?
For paleo junk food.
For baby animals. I love my kittehs, but there is nothing cuter than a teensy fluffy unsteady wee kitten!
For my poorly-constructed-but-effective greenhouse, and the incredibly sweet cherry tomatoes it's helping to produce.
Better than candy, for realsies.
That this is a slow week at work. Able to ditch early to nap, yes, but most importantly I am able to ditch Wednesday and Thursday afternoon to join Hop in taking his dad to radiation treatment.
For my opportunities.
That my FIL is coherent and "all there," just tired. Easier on everyone else.
For my stress-free session. A peaceful oasis of beastliness.
For the pain meds that have him feeling okay. Let's not add any more suffering, shall we?
For good days.
That my papa celebrated his 56th birthday today. Give him at least 40 more, eh?
For the holiday weekend that allowed us all to spend a lot of time together.
For good employers. Both Hop & I are lucky to have no issues taking the time off.
For the coworker (from a completely different team) who tried to share homemade peppermint patties with me this morning. They had cream, so I couldn't have one, but it was so damn sweet of her to offer them to me!
For my Marthaler curls. This is what my hair does without any effort:
That my body is giving me extensive sleep during this time.
For the ROUS group.
For cool weather. When I let Lexi out this morning, I almost jumped with glee at the blast of cold air. Love it!
For my awesome friends.
This was payment from Monica K for shoe rental. She helped herself to a pair from my (open) locker, when I wasn't using them...I didn't even have to do anything. This is a KILLER business plan!!
For mom's fractured elbow not needing a full cast. Should make her life a little easier.
For Hop's employer. He is down to just two days of vacation, but they told him not to worry about it, take however much time he needs, they will work it out. That's incredibly generous. So very, very grateful.
For the nurses. They are wonderful.
For the hospital visits.
For the many kind thoughts from family and friends and even "who is that?" folks on FB. It's not all memes and selfies! And for those who have directly called or texted Hop especially. I know he's appreciating those people quite deeply today.
For wonderful friends. They certainly do outnumber the crappy ones.
For all of my kind coworker friends, especially my NSS peeps, who gave me a sympathy card today that made me both tear up AND laugh at how very well they know me. Best.
For my mom, who knows just what kind of help to give at this time. Hope I inherited that.
For my husband's reaction to all of this. He is being a pretty amazing son to his mom, and I'm very proud of him.
For my people.
For the
amazing
generosity of Dan's friends and family. A lot of wonderful donations that will cover everything we spent and then some. Mary may even put some toward my RFL goal!
For a fun local opportunity to volunteer at a race, since I'm always on the other side.
That I am upset with a 10:00 pace on a tough trail run. If that's my biggest problem, I'll take it, and gladly.
For NSS. Just walking in there to meet Holea, I was brighter. What will I do when snow covers the park grass, and my fair-weather friend says no to that nonsense?
For clearing skin.
For the beauty of a deer in the woods. Still utterly delights me every single time.
For my friends. Lisa & Amy gave me a sweet gift yesterday: NSS gift certificate! Love those girls, and beyond excited to run with one & shop with the other this weekend!
That I can use my numbers brain to help some of my favorite people.
For great deals. I found jeans & a wool winter coat & a cute dress & a buncha workout clothes. A very successful outing.
For cookies I can eat. They actually aren't all that great, but sometimes a girl just wants some (a lot of) damned cookies, you know?
For
cookies that taste like real cookies
! They have buckwheat flour, but it's way at the bottom of the list (sugar is #1, obvs), so my fingers are crossed.
For a productive weekend before two getaway weekends. Deeply appreciating the return to my normal life after the difficult, painful season of Dan's passing.
For the ability (time & finances) to tell Holea I can go to her powerlifting meet. I truly wanna see a "big" one, I wanna see her kick ass, and since she said that none of her peeps are going, I'm extra super pumped that I can go be her cheerleader!
For lifting. Who knew I would turn out to be a meathead who loves to bench press?
For lovely fall days. Need to soak them in and savor them!
For 8 years at TS. What a drastically different person I am since coming here! 8 years ago, I barely worked out. I had never touched a barbell, thought running a 5k was insane, and couldn't imagine myself capable of a pull-up. I was unmarried, though I had been with Hop for 4 years. We had just moved to West Union, from apartment life in Sauk. I was a super basic Excel user who did not know 1/10th of what I know now. I did not have any pets, though I desperately wanted them. I got blitzkrieged pretty much every weekend at Sidewalks. I hated my body. I was painfully shy. I wouldn't have imagined myself in leadership. I had recently relieved myself of long hair problems by getting a chop. I had no food allergies. I had no friends at TS yet, some of whom are now my besties? TS has been very, very good to me.
For this vacation. It's bomb dig, yo.
That the iPad isn't too vital. I can probably live without it. Sadly.
For finishing this weekend on a high note.
For my lead's close control of things. This is not a project I wanted to be tossed into without any direction.
For the upcoming weekend. I get to hang out with Amy in the woods, I get to help a phenomenal running supahstah have a good race, and I get to be inspired as shit. YES!
For my bosses. It's Boss's Day, and it's a good time to think about the fact that I have NEVER had a crappy boss - couple "okay" ones, but mostly I've had downright AWESOME ones. I'm a lucky girl. (And I am trying to not be sad about the team potluck day that included a "Happy Boss's Day" sign to the team's 4 leads, and that's it. But clearly not doing too well at it, if I'm mentioning it here. Or perhaps I'm fearing that zero acknowledgement on my first Boss's Day is an indication that I suck at being one.)
For Lisa. Today is her 8-year anniversary, and I can't fathom enjoying TS half as much without her!
That I'm not running tomorrow. Instead, I can help a phenom runner log a phenom race. And get practice crewing him for when he does something truly outrageous like Western States! And this way it's all fun, no stress. (Until tomorrow when I'm jonesing to join them all!)
That I could help three of my favorite runners today while hanging out with one of my favorite peeps.
For my home. Always so happy to return, even if the "away" was fantastic.
For tomorrow's seminar. Getting me out of TS before the 1.5 weeks of nutso-ness, and giving me a reason to run some trails in St Cloud on a day I'd otherwise just rest.
For new trails.
For my lead, again. During my presentation, she was smiling and nodding and just this beautiful beaming source of confidence. Huge.
For my hard-working husband.
For DVRs that save my good shows so I can binge-watch.
For the ROUS group.
For no running injuries.
For dips. They make me feel supah strong!
For the opportunity to present the GGOB trainings. It's actually turning out to be quite fun!
For Lisa. I probably would have sissed out of the run if not for a buddy to keep me accountable.
For these miles:
For pull-ups. Nothing makes me feel stronger.
For my family.
That my laziness didn't impact anyone else.
For Miss Lexi. She is such a sweet li'l pooch.
For inter-office treats, like today's Coconut Macaroon Uberbar - thank you, Ms Joy!!
That all of this doctoring is covered through my HSA, so I don't have to be anxious about the cost; yet another reason to be thankful I'm such an obsessive saver.
That I may have finally figured out the truth of this picture:
For my second job. Really.
That my peeps could gather for a fun outing.
That pumping season is almost over. My hubs is TAHRD. And I miss him.
For the mentoring program at work. Forces me to reflect, and get positive in that reflection, and I need that. And it's awesome to listen to him and realize how much of what he's telling me, I've already heard from Chief...such a wise young owl.
That my neighborhood doe & two fawns are still alive. They walked through the back of our land this morning, and it made me so very happy to see those sweet round ears. I know that hunting is necessary, but dang it, I just love seeing those beautiful, peaceful creatures so close.
That the hubs came home at 7p. Not quite daylight, but for once he wasn't just a shadowy shoulder that showed up in my bed overnight!
For my dad's break-in skills. Locked my keys in my car for the Nth time, was in Sauk, and he showed up in like 10 minutes and got me opened up in about 35 seconds. Sah-weet!
And
I was able to repay him with oatmeal raisin cookies (his fave) from today's fundraiser at work.
For some spare time at NSS to work on some neat-o reporting.
For ROUS. The running group is playing a key part in re-solidifying my love of running. It's amazing.
For this view:

For smart coworkers.
For the team member who figured out the training; he thought outside the box and came up with a fantastic solution.
For the end of pumping season. FINALLY.
For my silly bouncy puppy dog.
For the ROUS group that will get my butt out the door into the freeeezing cold tomorrow morning.
For my family.
For getting older. Beats the alternative!
For books.
For team outings.
For Mom's help. House hasn't been this clean since we moved in! Still, I get zero satisfaction from cleaning, can think of a hundred million things I'd rather do. Like pay someone else to clean.
For the house that allowed us to host. It was super fun!
For a short holiday season. That WON'T be followed by tax season. Not even sure I can fully comprehend that yet.
That I felt terrible in the second half of the day, not the first.
For no plans to miss out on by being sick.
For a husband who blows snow without complaint.
For the bench press. I love that fucking lift.
I guess I'm grateful for a theory. I just wish it was one I liked better.
For dogs who curl up on tiny towels despite rugs and pillows everywhere:
Silly Hank!
For those who believe in me.
For sunshine.
That Joy introduced me to this jerky. Everything about this package says SABRINA, EAT ME:
Eat excellent. Be excellent. PORK. High in Protein. Gluten free. There's even a runner in the top right corner!
For the treadmill that is still working, despite massive neglect and having been purchased (used) about 10 years ago - still going!
For the gear that lets me triumph over Ma Nature.
For helpful friends.
For the Doolittle's Cobb salad. So good that I don't feel at all deprived.
For dog-loving friends.
For my quiet home.
For a source of non-addictive calorie-dense fat: Sunbutter with no sugar added. Yummy in one spoonful, but not sweet enough to make me want more than that. Moderation, what?
That I can afford better gifts this year, after scratching everyone off the list last year, with all the affording-new-house / without-selling-old-house panic.
For good people.
For the ability to purchase my MIL's pickup. She gets some proceeds she can surely use, Hop gets his precious pickup, and she'll be able to borrow it as needed for camping very easily.
For my peeps. They are so absolutely completely & entirely amazing. I don't know what I've done to deserve them.
That my patient husband now has a pickup, so he can tow me out of snow banks, even when said snow banks are in my own driveway.
For a no-shoes day. A great prediction of a good day is whether or not I had to put on shoes, and today I did not. The farthest I went was the basement, in slippers. Winning!
For my direct reports. They're good peeps.
For a good mental place. I went through all my clothes to cull out all the small stuff, and didn't even feel fat, which is amazing for this brain. A Christmas miracle!
Fo
r the most amazingest cat tower EVAH, built by my papa:
For my pets. Even when they are jerks, I lurve them.
That I can sleep in as late as I need to, and roll into work after 8am. This is a problem for me
leaving
when I want to, but otherwise no one else is really impacted. At least for now.
For outdoor plans on a lovely day.
For godchildren. Such fun!
For a much-improved forecast; the New Year's Day run is going to be above zero, not -12F!
Initially this mileage graph made me sad, but then I grabbed pace to remind myself the higher fall miles were mainly trails, plus hills/sprints with Holea. As my goal is now road running, I'm doing fine. Also, compare all the way back to last December, and I'm doing 7x better!